They Say That Disaster Always Happens When You least Expect It.
The Date: Wednesday 12 April 2017.
The Problem: Lotus elan clutch that refuses to operate.
The Panic.
It's just nine days out from the Club Lotus Australia Biennial 2017 National Gathering, I'm registered, paid up, and ready to attend, if only I can repair the elan in time… and right at that very moment of clutch failure it felt like it was going to be mission impossible… but never say never, they say.
Our Family Motto is: "Ne tentes aut perfice" (Latin) – English Translation: "Either Never Attempt Or Accomplish".
In other words it means: Give it Your All Or Nothing.
So it was time to put the family motto into practice.
The Story As It Unfolded.
Like most autumn days in Victoria, (Australia) they are simply gorgeous. And Wednesday the 12th was no exception being the sort of day that just begs one to fire up the elan and take it for a drive, after all, that is what they were designed for, aren't they, and as the Late Jim Clark Said "I drive my elan for pleasure, not because I have to"
This particular Autumn day, the elan felt as sweet as ever as we swooped through the low mountain ranges to the west of our small country town, it is a typical Aussie drivers road, sealed surface, great bends, short straights some long sweepers, and terrific short challenging climbs, the twink engine was revving freely, the ultra close ratio bullit box just a delight to use… snick snick from gear to gear, you never get tired of the sheer driving enjoyment of a lotus elan… except when something breaks!
Having enjoyed the short, but oh so sweet drive over the ranges on this fine, mild Wednesday, it suddenly all turned to crap when the first crossroads were approached and the attempt was made to flick down to third gear, which failed, and on slowing down some more, it was the same with second gear, and things felt just a little odd in the clutch department, "what's going on here" I thought to my self.
We rolled to a stop, turning the car left, heading the direction that I intended to go anyway. The strange thing was that every gear could be selected while the engine was turned off, and the car was stationary. Mmmm, not a good sign at all.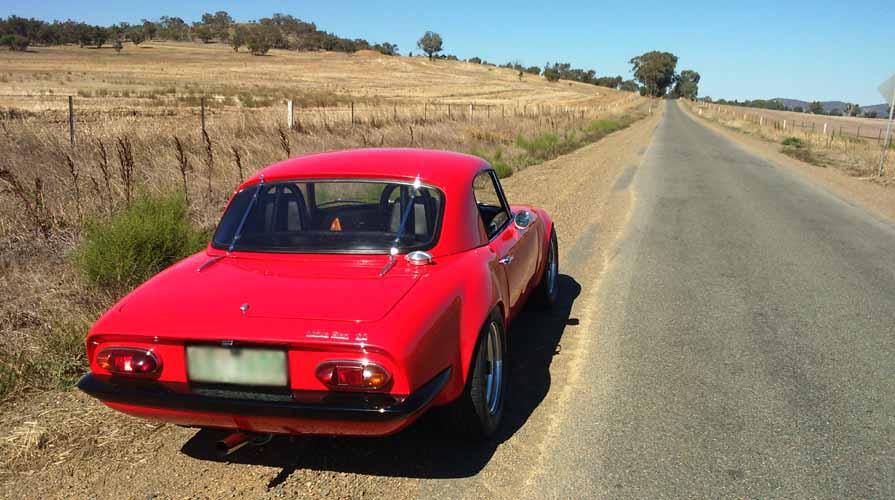 Time to call for help – I don't have roadside assist with the elan, and to be frank, have never felt the need in more than thirty years of driving the elan on many long trips… but today was the day, that maybe I wished just a tiny bit, that I had road side assist.
Lucky that I had my mobile phone with me, and good reception. I was not more than 25Km from home base, I might as well have been one hundred Kms away, for the feeling of helplessness that over comes one in this situation, if it was just a simple road side fix, eg, distributor points burnt out, you would just get to work with the tools and small spares that accompany the elan on every trip… but with what seemed like a broken clutch, we were not going anywhere soon while stranded and isolated on a quiet country road – not a nice feeling.
I phoned and left a voice message with a mate who has a Ute and car trailer, about an hour later he phoned back, and the elan roadside recovery plan was put into place… some comforting rescue action at last.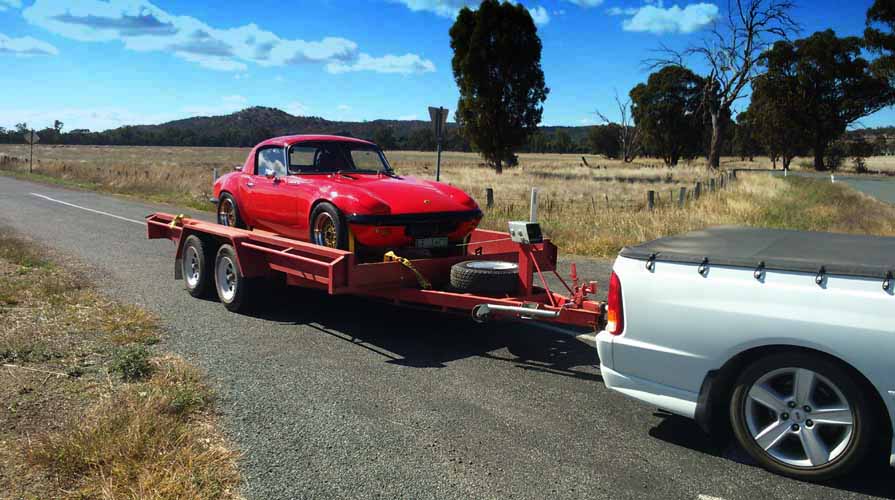 While sitting in the elan waiting to be rescued, I had nothing else to do but make notes on my phone about what had happened, and my general thoughts of being stranded on a lonely country road.
My Idle thoughts That Day.
Well, it finally happened, the clutch in the elan has failed, not sure what the problem is exactly but will have to sort it out. Not much fun sitting out on a lonely country road waiting for a recovery vehicle, but you have to put these things down to experience and just take it on the chin, worse things can happen.

This clutch problem first reared it's head three weeks ago on a drive up to the Vic Alps, where I could only get 3 and 4th gear, but after a clutch adjustment the problem went away, so thought all was good, but it appears not, problem could be slave or master cylinder, or the inner clutch plate mechanism has failed and may need a new clutch plate, but there is precious little time to get spares and do a rebuild before the lotus 2017 event on Anzac weekend, this is a total pain in the ass….and Easter is almost upon us.

But when I think about it, the elan has been an incredibly reliable car, and to be honest, this is the first time in thirty years I have had a major breakdown out on the road that requires an "on trailer" recovery, not a bad record when you think about it. So much for the people who malign the elan for being very unreliable… Not true in most cases.
Time goes pretty slow while waiting for roadside assistance, it's kind of boring, the day is not that hot, but I am getting quite thirsty sitting in the car out in the sun, I would not like to do this on a stinking hot Summers day, with no shade, and I could really do with a drink of water but will have to wait, as I did not take the water bidon with me because it was just a quick, short drive, wasn't it.

When confronted with a car breakdown out on the road, you feel so isolated, you need to get your thoughts together as to what the next step is. Luckily a mate was able to do the recovery, which I was most thankful for.
Two Hours After The Breakdown Happened.
The Lotus was back home and parked in the workshop ready to begin the tedious pull down. Luckily over the years I have had a bit of practice at this, so no real drama, things are organised in the workshop so that the body can be removed and replaced single handedly, because it is not always possible to get a helper at short notice.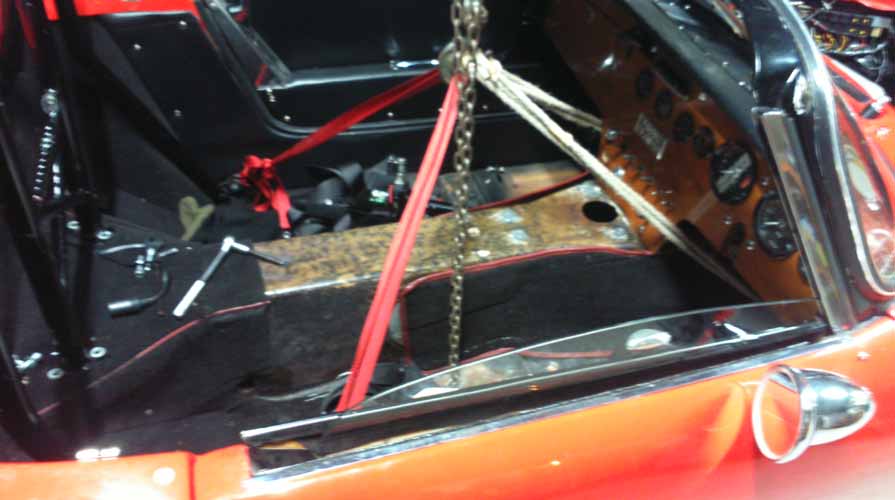 By 9.00PM Wednesday night the body was ready to lift off the chassis – an easy job with a chain block and lifting slings.
Thursday Morning.
With everything either undone or removed, (Half of the car pulled apart) and all body/chassis bolts removed, the body was finally lifted with the slings and chain block, perfect balance is achieved by placing weights in the boot, the body lifted off cleanly, then the chassis is rolled forward away from the body, and the body is then lowered to the floor for safety reasons, until it is time to lift and refit to the chassis again.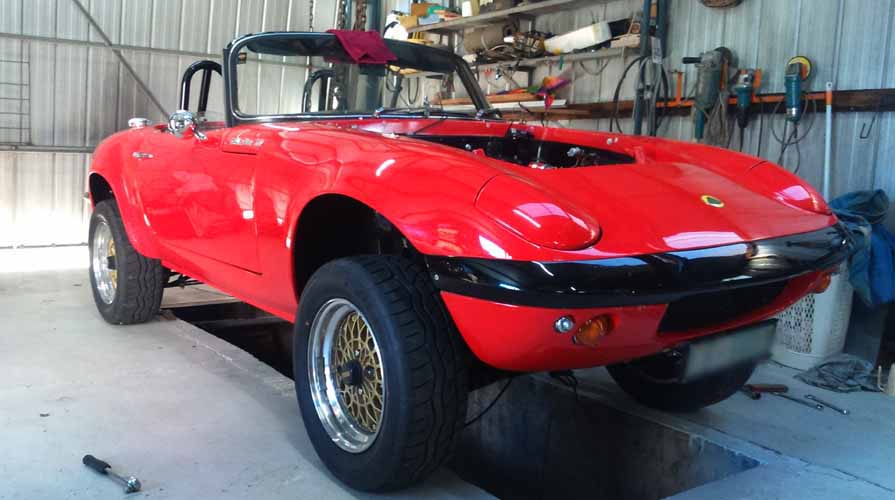 The big surprise was noticing how much road rubbish, stones, and other crud that had accumulated on and in the chassis. But a degrease and high pressure wash soon had the chassis sparkling clean again.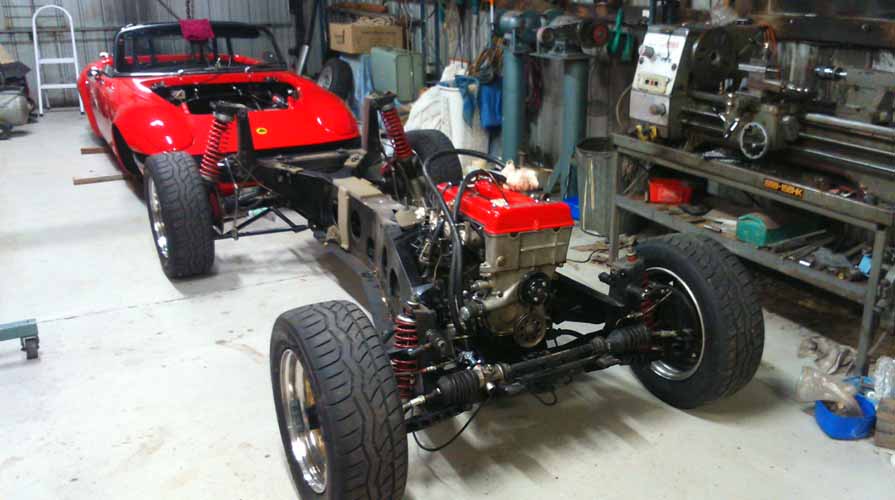 It did not take long to remove the engine and gearbox out of the chassis, then the gearbox and engine were separated, and once the clutch pressure plate was removed from the flywheel, the sorry state of the clutch plate was revealed.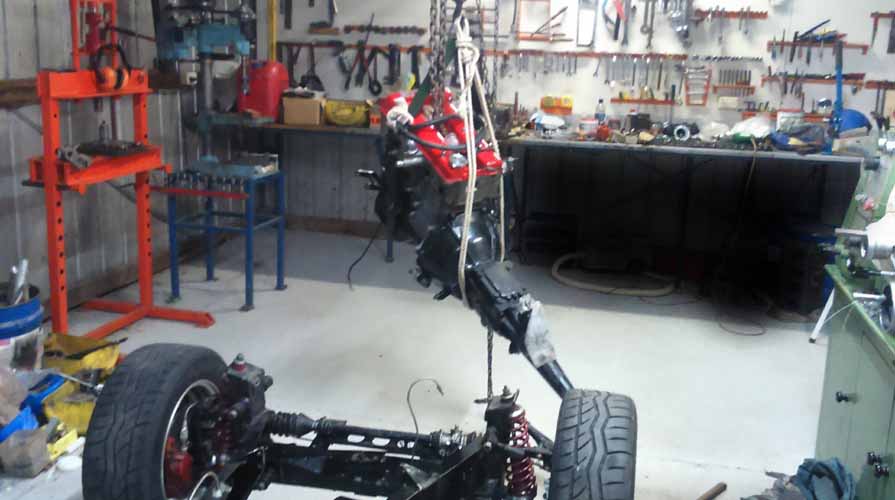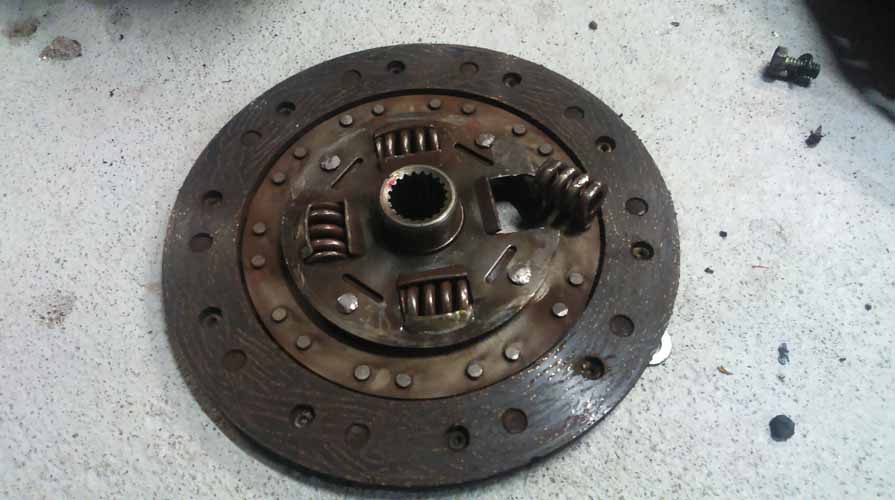 After sixty thousand plus miles, the clutch plate finally decided to called it quits.
A few days out from an event is not the best time to have this kind of drama
This inconvenience happened right on the eve of Easter, so it could not have happened at a worse time as far as getting spare parts went. But just by chance I called Steve Lunn of Rob Roy Classic Road and Track (Kinglake Vic) to see if he could help.
This was Good Friday which of course is a nationwide public holiday, but thankfully Steve said he would swing by his work shop to see what spares he had, after telling him that all we required was a new clutch plate and thrust bearing.
Late Good Friday, Steve phoned back to say he had a clutch plate and thrust bearing,"great" I said, "can I meet you at your work shop about 9. 30 AM Easter Saturday" "Yes" he said.
So we (My wife and I) left home at 7.00am, we arrived at Pheasant Creek King Lake about 9.30AM, and after spending about 40 mins talking cars, and a quick workshop tour, it was time to head home with the parts, there was still a lot of work to do.
Saturday afternoon was spent cleaning and preparing for the reassembly, and that work was done, it was time to down tools for a cuppa and a bit of a rest.
Sunday Morning.
A very early start, the reassembly begins, and to assist in applying correct torque to flywheel bolts, I fabricated a special flywheel locking tool, not my design, as they are common in most Pro engine building shops, the fixture is held by two bolts on the back of the engine block, the tapered wedge plate locates in the ring gear teeth – No more fiddling with pegs, or screwdrivers that slip. This makes it easy peasy as they say.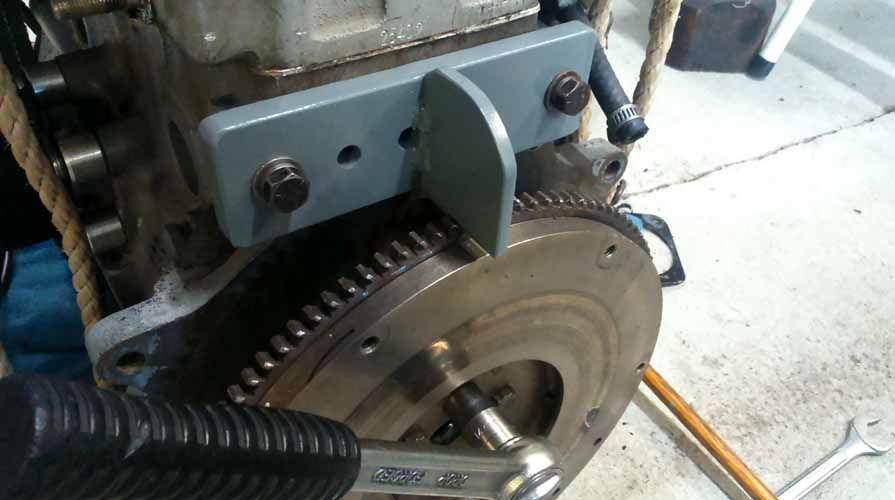 It is also essential to use an accurate clutch aligning tool which locates in the crankshaft (Spigot bearing) and that the clutch plate inner spline is a light sliding fit, the tool also has another sliding collar that fits neatly into the thrust bearing pad aperture which helps to ensure that everything is accurately aligned, which means the gearbox/bell housing will slide in and mate to the engine on the first attempt, there is nothing more frustrating than having to stuff around with trying to get everything to line up when on a tight time schedule, we can well do with out any messy hold ups.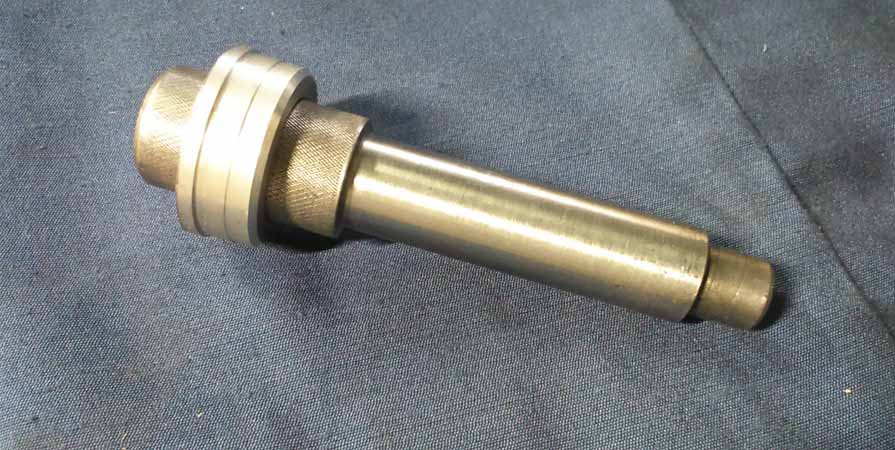 The thought was to perhaps have the flywheel refaced to help the new clutch plate bed in, but decided against it purely on the lack of available time, and as it turned out the clutch bedded in perfectly and worked as per normal during the first road test after the rebuild was completed.
Want to fabricate your own flywheel locking plate?
Dimensions Of Flywheel Locking Plate – Sample shown was made from found workshop scrap – took 30mins to make.
Flat Mount Plate MS:
Length: 165mm
Width: 50mm
Thickness: 8mm
Mount bolts are 7/16UNC. (Use bell housing bolts).
Drill two large holes at 130mm centres to allow to raise and lower tool to engage in the teeth… or mill elongated holes.
Lock Plate Dims
60mm X 50mm X 6mm MS Plate
Mill or grind V shape on lower edge to mate with flywheel teeth. (Does NOT have to be an exact fit.)
Set up lock plate on mount plate, mark, then weld the two plates together with MIG or ARC.
Clean up – de-dag – paint, and its ready to use, will save a lot of cussing and skinned knuckles.
After the hard slog of dismantling, and doing the repair, we had the elan back together with a day and a half to spare, strangely enough it is the multitude of small things that actually take the time to complete the job, and then there is the road testing and bedding in again and making of several final adjustments during that time.
Question.
So was the actual time 45 hours to dismantle and rebuild the elan… it could have been 50 hours, we don't know for certain, it took five days and some late nights, but we got there in the end, there were a couple of raised eyebrows at the event when we told other elan owners what had happened, so it just goes to show if you are organised and prepared to put in the effort, you can accomplish what you want… discounting major disruptions throughout the project of course. But one of the best things to set up on an elan is to employ captive nuts where ever it is possible to do so, and to speed up the dismantling-re-assembly job, an air wrench is absolutely worth its weight in gold.

This 2017 event was hosted by the Victorian Chapter of Club Lotus Australia. The event was a huge success, but the part that I particularly enjoyed was leading some spirited elan drivers on a different and fantastic driving route back home, which was different to the rest of the group. With very little to no traffic along the way, we could let the trio of elan cars do what they do best, and that is to devour twisty winding roads at a very rapid pace, and the smiles said it all at the end of the drive. With perfect weather and a great bunch of people, a fun time was had by all.
After the track day at Winton on the Monday, the heavens opened up that night, and about 30mm of rain fell across the region on Anzac day (25th April) but that's the way it goes, you either get lucky, or you don't.
It was great meeting up with and making friends with so many people from; Vic, NSW, SA, Tas, WA, QLD. Will be very tempted to make the journey to Queensland for Lotus 2019… Seems so far into the future, but we all know that it will zoom around pretty quick.