You Can Fabricate Your Own Exhaust Extractors.
The time may arrive in the near future when you are confronted with the realisation that the exhaust headers/extractors on your elan are knackered, or worn out. The next question you'll most likely ask ask is, where do I get a new set of headers? And how much will they cost me… and how difficult will they be to install and or to remove from my elan?
I couldn't tell you just how much you might pay for a good set of headers or extractors, call them what you will, but they wont be cheap.
If you posses engineering skills and you like welding and working with metal tubing, then you might be able to produce your own exhaust extractors at a very low cost. The writer was faced with that same problem a few years ago during the second time around rebuild restoration of the S2 elan.
At that stage, the body was off, leaving just the rolling chassis, which provided clear access in and around the engine, chassis, and gearbox, with no obstructions like the body to impede the ongoing work, BUT, from time to time, the body was temporarily replaced onto the chassis in order to check clearances near where the body may have been close to the pipes… better to spend the time doing that than find out later that things don't fit!
So the task began… the old original pipes were ready for the scrap bin, but before we did that, the old steel manifold flanges were cut off and prepared for use on the new pipes, the original flanges were hand cut by self way back in the early 1980's, consisting of 12 mm thick MS, and with a reface and clean up in the lathe, they were as good as new and ready for service again… Yes,it's trendy to be a recycler.
Materials And Gear To Gather.
Short lengths of exhaust pipe.
Selection of; 90deg, 45deg and 15deg mandrel bent tubing, you may also need other angles.
Spun metal donuts –  MS half shells which can be welded together and sectioned to create super tight compact radius bends… far tighter than mandrel bent tube.
Flat metal plate to produce joining flanges.
Welders – TIG- MIG or Oxy Acet… on this project we used Oxy welding only.
Lathe – Not essential, but will come in very handy for making joining flanges etc.
Workshop Tools – A good selection of general automotive tools.
Patience and Persistence – A very good dose of both, because this project will try you out.
So Lets Begin.
We are assuming your elan is for the road, not the race track, because building an exhaust header set for each will be different – a race set of headers or extractors will need to be more precise in every way, as against a road going exhaust, one can afford to be not so anal about pipe measurements, eg, internal diameters, primary and secondary pipe lengths, and also tail pipe lengths.
But first a look at the old headers that were built decades ago… it is almost embarrassing to show you the picture below, but I want to be upfront with you, so that you can see where we are coming from.
Before I forget, I will reveal the pipe diameters that I used to fabricate the new extractors explained in this article.
Primary pipes – (The pipes connected to the cyl head exhaust ports) – 1.5″ (38mm) OD
Secondary pipes – (You know where they are) – 1.75″ (43mm) OD.
Tail Pipe – 1.75″ (43mm) OD –  Next time around, the tail pipe will be 2″ OD for better breathing up in the rev range.
Picture below… the old and daggy exhaust pipes.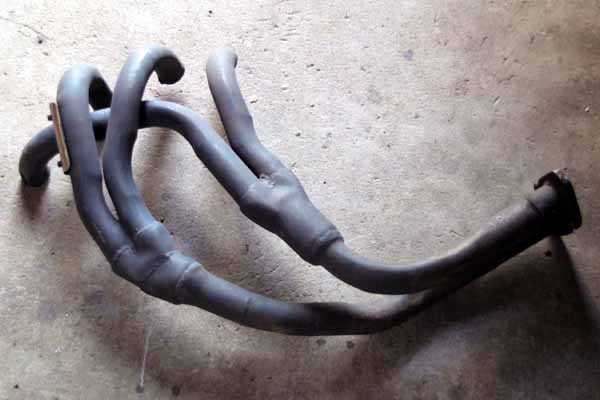 Oh boy, these really are daggy, but hey man, they gave service for nigh on twenty five years. Note that they were routed both sides of the LH engine mount – don't ask why – just seemed like the best thing to do at the time they were built.
Beginning from scratch, you first need to work out in your mind the route the pipes are going to take, most four cylinder engines have cylinders cyl's 1 and 3 joined via short primary pipes and a merge collector, and cyl's 2 and 4 joined via the same method, that arrangement will guide the exhaust pulses travelling down each pipe after the exhaust valve opens and helping to promote the extraction (Scavenge) of exhaust gas from each cylinder, 1 – 3 – 4 – 2 goes the firing order, it's not hard to understand the science behind it.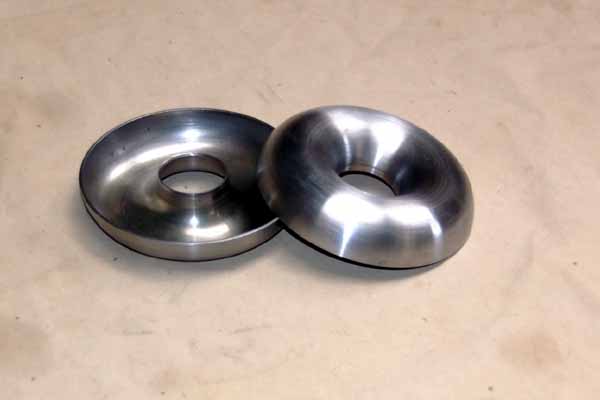 The picture above explains what the metal donuts are – and have nothing to do with the Yellow Maccas Arches spread across the country, they are available in many different sizes and different materials. The only tedious chore with these is the welding together of the two halves before you can use them to produce extremely compact and free flowing bends for your headers or extractors.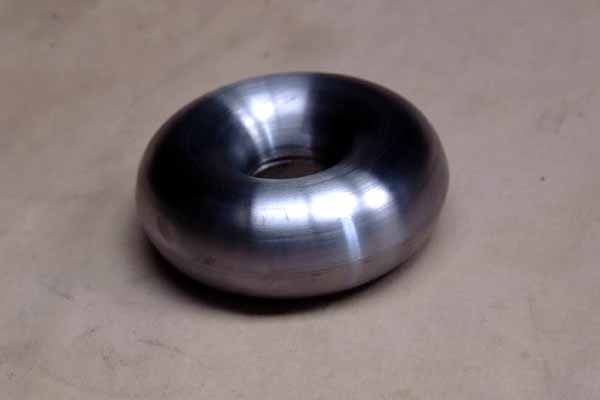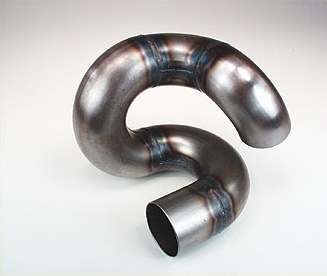 Now you might understand, what is possible with the fabrication of exhaust pipes, this is an example from: www.pro-werks.com USA, pretty amazing, this particular configuration would be difficult to mandrel bend, metal donuts allow the fabricator to pretty much design any shape of exhaust pipe.
If you reside in Australia and looking for donuts, then visit: http://www.elprodirect.com.au/ this is where we obtained our metal donut supply, and they deal direct which is great.
Once the donut halves are welded together, (Outside seam) various sectors or quadrants can be cut from the circle to create the radius arc that is required for the particular bend being produced. Once a segment or quadrant is cut and removed, the inside seam radius can be welded.
Building exhaust headers from scratch means there will be a lot of trial and error involved in the whole procedure.
There are no rigid plans, and there is no magic to make it all happen, what you build will be a "one off" set of extractors or headers.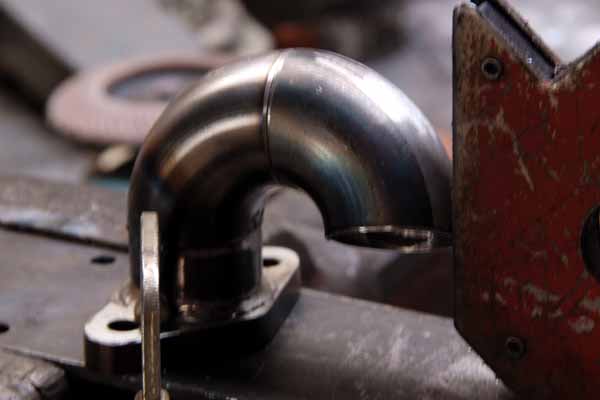 In the picture above, there are four pieces of metal, the flange, a short straight tube, and two segments of a do nut, the piece held by the magnet on the right has been twisted slightly towards the camera in order to create a smooth compound progression. The pieces of tube are tack welded, then checked against where they will be finally welded in place… if all is good, the welding is made more secure, but don't complete the welding until the pair of manifold exhaust tubes (1 & 3) are connected to the lower merge collector, which will be shown a bit later on.
You may be thinking that building an exhaust system like this is too slow, and perhaps very time consuming, well, I wont argue with you on that, because it is. But remember, this is your cool project, your not paying the exhaust guru down the road 100 bucks an hour, it is your time… call it love, or pub time, it is costing you bugger all to do this, and think of the personal rewards and accolades you will receive from your friend's when you say; "I built this exhaust system", and watch their jaws drop.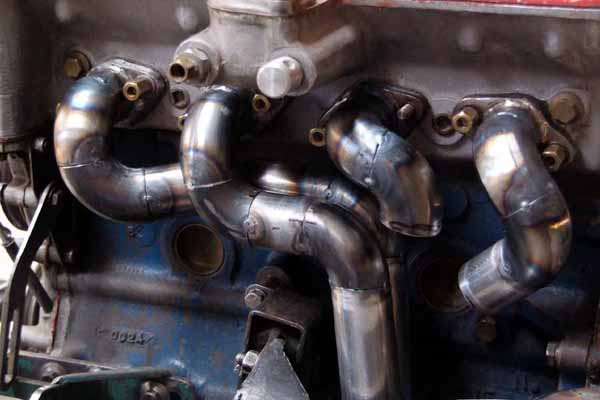 This photograph clearly shows the segments of the metal do-nuts that have been employed to create the tight exhaust bends, the beauty of the donut segments is that they can be used to create highly complex pipe bends, all it takes is time, patience and careful work, if you enjoy the creativity of this kind of work then you will be proud of the end result.
A word of caution: Tack weld pipes only – Do NOT fully weld anything until you are certain that everything is correctly lined up.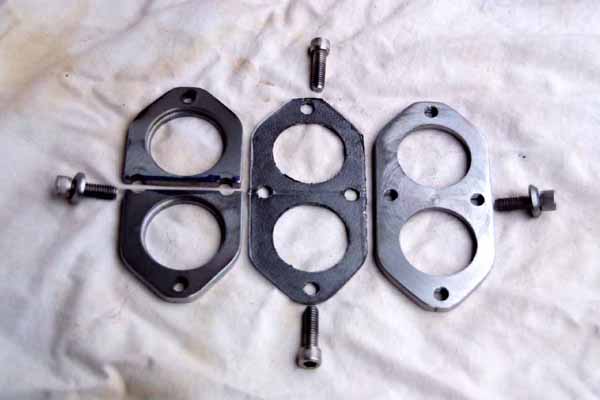 Flange joint are required on all exhaust pipe fabrications. The flange joint above is used to join the secondary pipes that drop down from the merge collectors, the single plate is welded to the collector that channels the exhaust into the tail pipe. The split flange is employed to allow easier fitment and removal of the extractor pipes when required.
Note: The exhaust flanges were cut out from 8mm (5/16″) mild steel plate. The plates are clamped and tack welded together, including the gasket material, then the holes are drilled, and the holes are bored out on the lathe, note also the bored recess to accommodate the pipe ready for welding.
This is the flange joint now set up underneath the car, the split joint is welded to the secondary pipes, the cross wire between the plates is to represent the gasket thickness.
A photograph to illustrate what the pipes look like in the finished state, and mounted to the engine. Note again the use of a special steam pipe design flange joint.. (Gasket less joint) this single flange is the key to being able to remove and replace the exhaust with out any great drama, as compared to the nightmare in trying to do so with one piece manufactured pipes.
Lets face it, a lot of things that have to be done on lotus elan can be a bit trying, so why not make then job much easier and less frustrating to do, many jobs can be made much easier to carry out.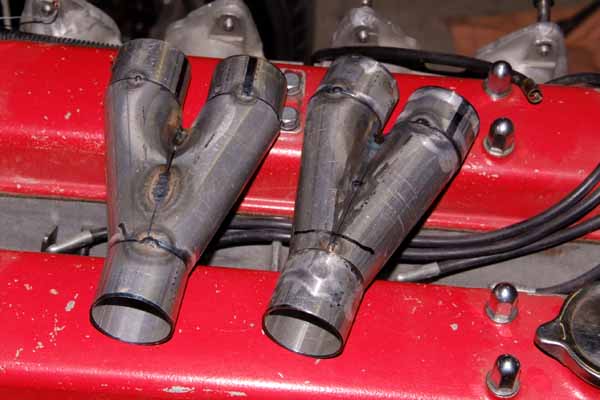 More hand fabricating – Custom made merge collectors. (Primary pipes to secondary Pipes) They are not that hard to make, and cheap when made from scrap or pipe off cuts.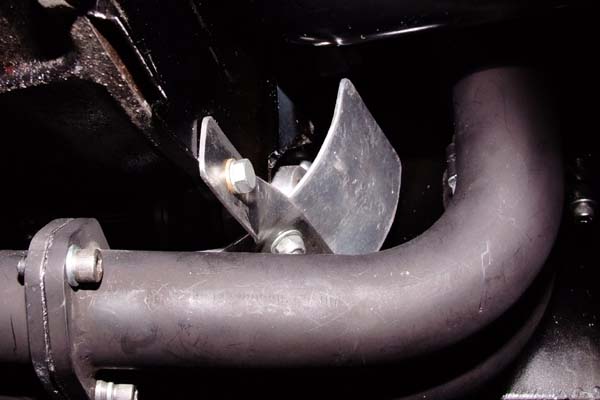 Heat shielding of the clutch slave cylinder is essential if you want an extended life from the slave cylinder, a simple aluminium sheet protects the slave from excessive heat stress.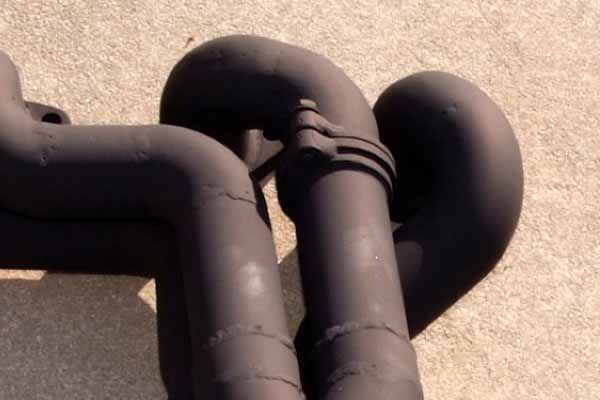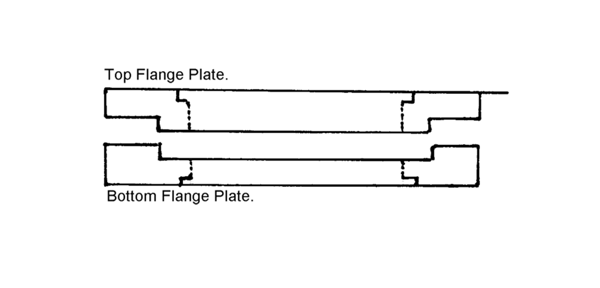 Right now, you probably realize that to do a really great job on your exhaust pipe project, you will need a lathe, or access to one. The image above describes the set up of the steam pipe joint, they do not require a gasket… only steam pipe jointing compound… OR high temp RTV, and they will stay gas tight for ages, the trick is not to over tighten the fasteners that hold them together.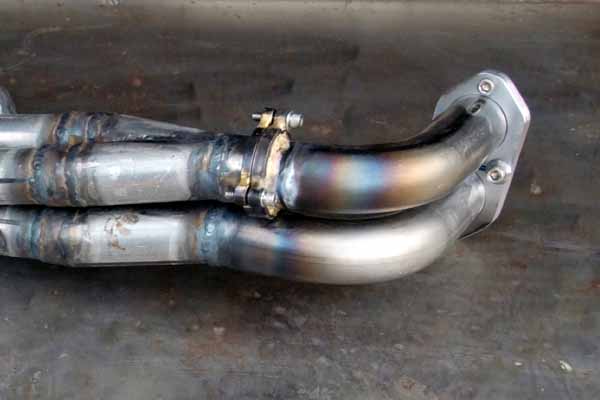 Picture above shows the lower section of the headers, a bit of work involved in setting everything up before a full weld process is begun. The steam pipe flange is held together with stainless SH cap screws. DO NOT use ordinary steel socket head cap screws, they will quickly rust in and they will never be able to be removed.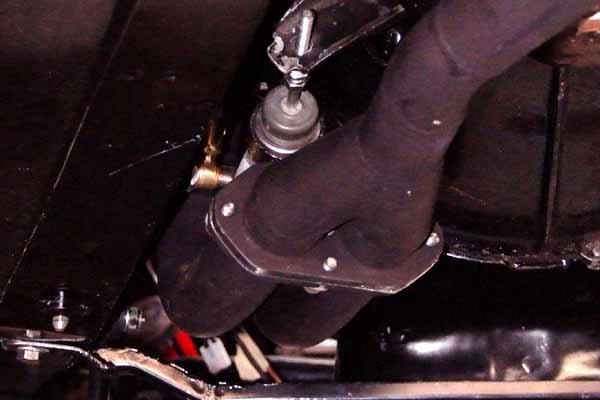 This shot was taken during the final installation, shows the headers bolted to the tail pipe section. All of the hard work was finally coming together, and the results were looking good.
As the constructor of these DIY pipes, I was not disappointed with the final result. I cant tell you what changes they made to the engines performance, I cant tell you if they increased the power, but can say that the exhaust note is pretty damn good, and other people's eyes boggle when the take a look under the bonnet, especially when they learn that they are DIY made at home pipes.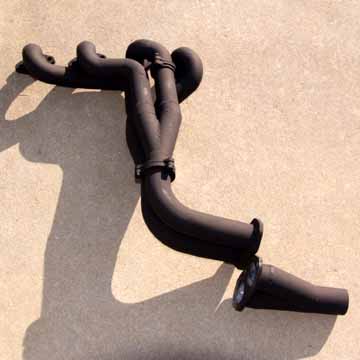 After sand blasting the pipes, they were painted with high heat resistant VHT black paint. It is now several years since the build job was done and they still look great. DO NOT paint over untreated metal, the pipes MUST be bead or sand blasted prior to painting with VHT.
All of the welding carried out was done with a fifty two, yes, a 52 year old Oxy/Acet welding rig. No fancy TIG or MIG.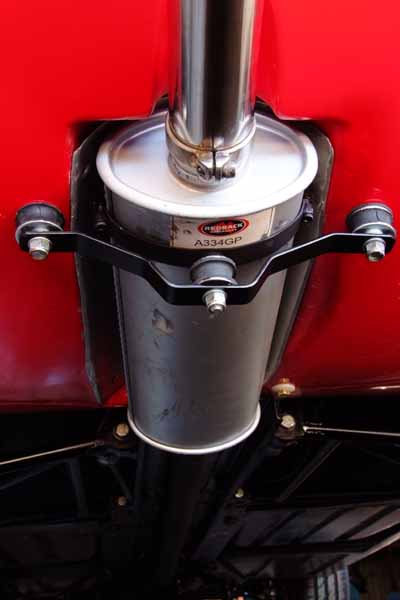 Yes, I know what you are thinking, that is very different to the standard S2 muffler set up…and the reason is that the standard Lotus elan S2 arrangement sucks. The boot floor has been re-glassed to create the muffler cavity – NOTE the aluminium heat shield which is required if you don't want the rear of the elan to catch alight??
The muffler bracket does work well, and has proved reliable, but could do with some improvement as the bottom centre mount bolt does at time scrape on the road when going through kerb side gutters etc.
Now having read through this article, your question might be – Can you build your own exhaust system, the answer is yes if you have the skills, the time, and well equipped workshop. Would I build another one?… yes I would.
The important thing to remember is that the exhaust system we built was all done during a ground up restoration, so that meant that the elan body was off the chassis, and provided clear access while building the exhaust system up, I could not imagine doing the same wityh the body on, it could be done, but would be a bit more difficult to do.
So with that I will leave you to ponder and start thinking about how you will tackle your own exhaust header project.
Good Luck.
PS.
You might be wondering what the system sounds like when driven in anger.

On-any-week-day from Colin Croucher on Vimeo.