Owning a classic lotus elan is as some would say, both a joy and perhaps a mild frustration.
The frustration stems from experiencing some kind of a mechanical problem but not knowing how to fix it. The elan is a basic classic 1960s sports car, but they can also be said to be complex and quite difficult to repair if you don't posses the knowledge, skills and tools.
It is possible with the proper skills and tools to be able to maintain the elan in excellent condition, but having said that, every elan owner should strive to learn and acquire a very wide range of mechanical and fabrication skill set, and if that is not the case with you, then you should be prepared to accept the rather large repair bills that can quickly get out of control for engine, gearbox, diff, suspension, not to mention repairs to the chassis and body, not that you'll need to frequently attend to any of those things, but when the time comes for the inevitable rebuild/restoration, the multi skilled elan owner will be way ahead of the pack.
Comprehensive mechanical repairs require a fat wallet when employing the lotus guru to service, repair, and rebuild. There are very few jobs that can be carried out quickly when working on an elan, there is a given process, procedure and order to follow, and few short cuts to be had.
The cars (Early examples) are now fifty years old, they are known to be fragile in certain areas, and some parts are becoming hard to find.
There are generally two types of elan owners, those that can be called "tragic purists", where everything must stay as it was when the car first rolled out of the factory door. Then there are others who are sympathetic to the purist form, but who are also willing to mod and improve their cars with sensible, improved updates. There is no prejudice here for whichever way you prefer to lean.
The quantity of lotus elan that could be identified today as absolutely stock standard in every respect would probably be a very low number, does that really matter? not at all. Fortunately, the lotus elan does respond well to certain modifications.
A well tuned, modded and well set up elan can truly hold it's own today when driven along twisty winding mountain roads that it was designed for, but not so much when on freeways, motorways or autobahns, unless a 3.5 diff is installed, or a 5 speed gearbox with a tall final drive ratio.
Where the elan truly shines, and it is an absolute joy to drive, is on twisty, winding roads through alpine regions, or sweeping roads found in the open country, the elan is still a rapid "point to point" sports car, and a tongue in cheek Quote from Graham Arnold, ex Lotus marketing; "The elan can average 69MPH without exceeding 70MPH" is not far from the truth, you don't have to (Often) break the speed limit, much to the frustration of drivers with more powerful and larger cars, and as an elan owner I can testify to that quote.
The elan is quite simply, one of  The Best Drivers Sports Cars Ever Built…. Thank You, To The Late Mr Colin Chapman.
This blog has been put together to help other elan owners to upgrade, enhance and maintain their pride and joy. Feel free to read the articles and post a comment if you feel you must, and if you love and enjoy your elan, we will also welcome your feedback.
There are many types of lotus elan cars in the world, some are left stock standard, some are slightly modded, some are given transplants with more modern powerful engines.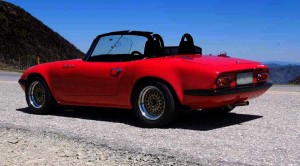 Modified S2 Elan- Australian Alps.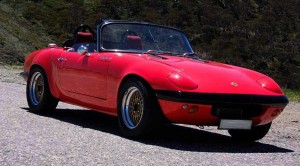 Wide wheels, nice flares, roll-over bar hoops, gives the S2 elan lots of poise, and adds a bit of 26R street cred flavour. It's a head turner where ever it is taken.