Elan S2 – 26R Window Lift Handles.
We have manufactured and supplied countless sets of these window lifts to elan S2 & 26R owners across the globe.
The hinges are brand new replica cast aluminium window lift handles, hand made by an Aussie metal craftsman.
Original elan S2 window lift handles are virtually unobtainable, unless you can find the occasional second hand item, but in short, they are as rare as hens teeth, but not any more, elantrikbits are now manufacturing exact reproductions.
The window finger lift or handles, (call them what you like), are exact replicas of the British made originals, but instead of being finished in chrome, they are cast in high quality aluminium & beautifully buffed & polished to a high lustre.
Full instructions for installation and care are supplied with each window lift set.
Bright and shiny window jewellery for your S2 elan or 26R.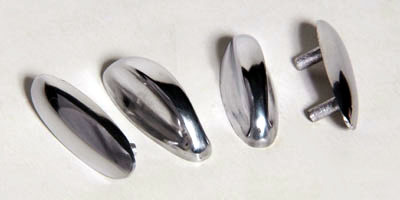 Elan S2 & 26R Window Lift Kit.
The lift handles are sold in matching sets (Pairs) which include:
Two internal lifting handles.
Two matching external holding plates.
As shown in the photo above, ready to install onto the windows. These replica items are cast in our own foundry – then hand finished in the metal shop.
The finger lifts are sand cast in aluminium, the post casting process requires the finials and flashings be removed in preparation for the hand finishing work, which includes drilling matching holes for the holder legs to engage in, both parts are then carefully hand buffed to a mirror finish.
If you have been searching for these previously unobtainable elan S2- 26R elan parts, then this is good news week for you, grab a pair of window lifts today for your S2 or 26R elan, please note that production and supply is limited.
Click the secure pay pal order button below to place your order.
Click on the drop down box to order, one, two, or three window lift sets.