You Don't Have To Put Up With Potentially Damaging Oil Surge – There Is A Fix … And It Works One Hundred Percent.
Do you want to learn about the design tricks of the gated – baffled sump?
Save BIG $$$ by building & fabricating your own sump baffle oil control system.
In Lotus twin-cam circles, it is a well known fact that nearly all road going Ford/Lotus twin cam engines as fitted to the classic Lotus elan, +2 elan, Lotus Cortina, Twin Cam Escort & Lotus Europa, etc, suffer from excessive oil surge and the inevitable oil pressure loss during high-speed competition club/historic events, or even while driving hard & fast on twisting & winding mountain roads.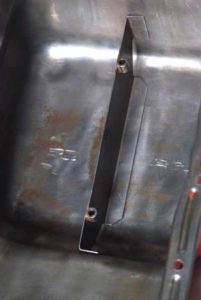 The picture above shows the original Lotus factory fitted oil baffle plate, a baffle plate that is next to useless, is it any wonder that twin cam engines suffer from oil surge problems!
If you're like most elan driver's, you probably think the "fix" is a "momentary lift of the throttle"and then wait a few seconds, until the engine regains oil pressure, that's not a good option, even a momentary lack of oil feed to the bearings at high revs could be a disaster just waiting to happen.
So Why Put Up With Damaging Oil Surge?
A Constant Supply Of Pressure Fed Oil Is The Stuff That Keeps Your Engine Alive!
No oil between crank journals and bearings means metal-to-metal contact, repeat that process often enough, and it's just a matter of time before the bearings and or crankshaft journals call it a day…If you ever hear a strange rattle noise from down below during cornering, you've got problems for sure.
Here Is A Short Video Demo Of How It Works.

You wouldn't play Russian roulette with a loaded pistol, so why play Russian roulette with your Lotus TC engine… Most of the OEM sump & baffle designs are a compromise between economical production solutions, and a just "OK method" of oil control.
Just "OK Oil Control" is simply not good enough… your high performance Lotus engine deserves much better than that!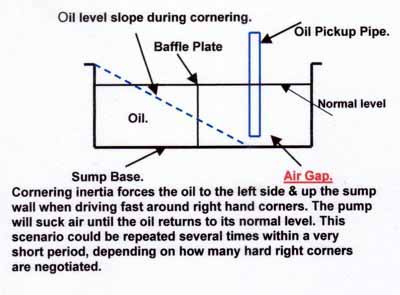 The diagram above illustrates what happens to the oil in the standard sump under hard cornering (Side to side) or hard braking (longitudinal), with out proper baffles to control the oil, it simply sloshes all over the place, and is every where except where the oil pump pick up pipe is.
A Gated and Baffled Twin Cam Sump Will Prevent Oil Surge – The ideal solution if you race in historic events where they ban dry sump lubrication, or you drive your elan hard and fast on twisting winding mountain roads –
And here's a word from the author of the ebook on offer – Oil surge and loss of pressure stopped immediately on the installation of the gated and baffled sump, I was simply amazed, because the problem was an ongoing occurrence for decades.
So who has bought the book? Every one, from the weekend  DIY enthusiast mechanic, to professional engine building shops, in fact after we launched the book, we thought if we sold fifty, that would be OK, but it proved to be far more popular than we ever thought it would. So if we can help others to cure oil surge and prevent engine blow ups, then that is a good thing.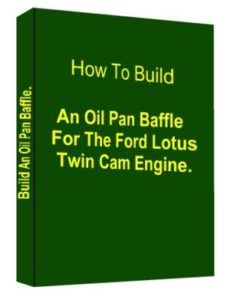 In this book you will find all of the building details and tricks to construct and convert your own wet sump to a fully gated and baffled sump, and no one will ever know that you have one, unless you tell them, and you will, because the oil surge problem you had will simply vanish.

Your purchase will be transacted through the pay pal SSL secure payment gateway- All major credit and debit cards are accepted.
After your purchase please wait to be redirected to the download page. If that does not happen, please DO NOT panic, contact us through the contact page so that we can assist and help you. Downloads can at times be interrupted through all kinds of problems that occur on the internet.