Lotus Elan Door Hinges – S1 – S4.
Production has resumed of the high quality, high strength, reproduction lightweight aluminium lotus elan door hinges.
The hinges are custom sand cast in our own foundry, machined and threaded to standard specs in the machine shop.
The aluminium hinges feature elongated holes which provide a large amount of door to body adjustment.
The pivot end of the hinge is machined and threaded to accept the standard nylon swivel bobbin and locking spigot.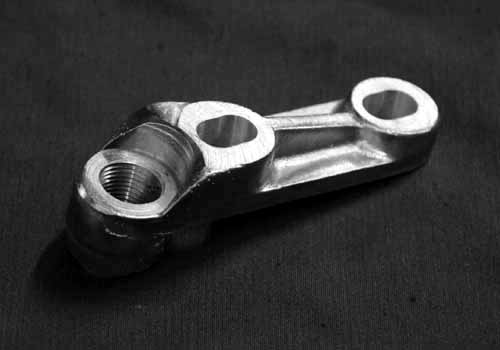 Door-Hinge-lotus-elan S1 to S4 – With Milled Elongated Bolt Holes.
The cast aluminium door hinges are supplied in sets:
2 X elan door hinges
4 X elan door hinges.
This batch of new elan hinges are currently the best price on the planet.
(If you require only one door hinge please contact us)
The bottom door hinges of the lotus elan generally become badly corroded over a long period of time.
The threads can also be damaged or stripped through the difficult removal process of seized parts. If a full restoration is in progress, it makes  economic sense to replace all of the hinges during the restoration.
The early S1 elan door hinge featured large round holes – The later series, including the reproduction hinge product we supply, has elongated bolt holes milled into the hinge which allow a large movement and adjustment to help with correct door closure.
We generally carry a stock of hinges, but from time to time that may not be the case. A stock shortage may mean an extended lead time for order fulfilment could vary from three to four weeks depending on the work load.
If you require a set of hinges for a restoration or rebuild project, please plan ahead and place your order early to avoid possible delays.
To order, choose either two, or four hinges, then click on the correct button to continue with your order.
The price includes worldwide shipping.


After your purchase you will be issued with a payment receipt from Pay Pal, your order receipt will also be emailed to us. We may contact you to confirm your order and mailing address details. If wish to contact us please use the contact form.